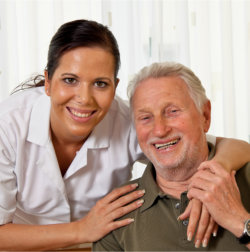 At Medicol Inc., we aim to meet the different needs of every client. This is why we offer a long selection of services that our clients can choose from. Please refer below for the list of services that Medicol Inc. DBA Medical Professional Staffing and Family Homecare offers to clients in their homes.
Skilled Nursing Care
We make licensed and registered nurses available for our clients. This is in addition to all other nursing paraprofessionals who are trained to deliver services to the clients in the comfort of their homes. Individuals and families are well integrated into an interdisciplinary team which works together to provide excellent services geared towards the promotion of independence.
Physical Therapy
Our physical therapists will work closely with other health care providers, as well as the patient. In doing so, we seek to assist patients so that they can achieve their optimum level of function in the home setting. They work on mobility, safe body mechanics, pulmonary therapy, gait training, instruction in the use of prosthetic/orthotic devices, and energy conservation techniques.
Occupational Therapy
Our occupational therapists will work with patients, families, and other health-care providers to help maximize the patient's functional skills. Occupational Therapy increases the patient's ability to safely perform activities of daily living in the home.
Speech Therapy
Our speech therapists work to assist the patient in reaching his or her optimum functional level. Speech Therapists address communication deficits, swallowing limitations, and memory impairment to ensure the maximum level of functions.
Certified Home Health Aides and Personal Care Attendants
Our certified home health aides and personal care attendants are expertly trained in assisting individuals with activities of daily living.
Certified Homemakers
Our certified homemakers are trained to assist with light housekeeping, laundry, grocery shopping, and meal preparation.
Medical Social Services
Our licensed social workers provide excellent services to clients. They integrate home care services with community services and other resources which might be of benefit to our clients. Other areas of assistance include, but are not limited to, long-term placement, emotional/psychological counseling, financial resources and planning, support with assisted living, patient and family education. Our focus is on the client receiving the highest level of service from referral to discharge.
Private Duty Services
We are pleased to have Nurses, Personal Care Attendants, Homemakers, and Home Health Aides available for private duty assignments.
Medicol Transport
We have a fleet of state-of-the-art medical transportation vehicles to carry patients to and from their homes, care facilities, clinics, adult day care centers and dialysis centers, among others. Our vehicles are fitted with equipment and facilities to accommodate patients who are wheelchair bound or bed-bound. In your fragile medical condition, we seek ways to make your trip less stressful and more comfortable.
Please note that rates are available on request. All private-paid patients are welcomed as well. If you would like to schedule a consultation, please proceed to our Appointment page. To speak with us, simply dial 774-244-4128.